By Viktoria Urban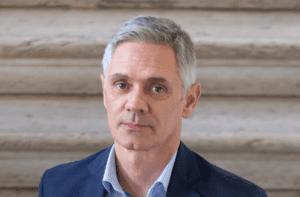 Our Space Cafe WebTalk "33 minutes with Ricardo Conde – Portugal's Journey into Space" took place on Tuesday, 12th April.
Ricardo Conde holds a degree in Electrical and Computer Engineering from the Technical University of Lisbon and a postgraduate degree in Space Technologies. He began his professional career in 1991, having been linked to the Aeronautics and Space sector since 1993 with the participation in several national and international programs, in particular in space and ground segments. 
In 2019 Conde joined the Portuguese Space Agency, Portugal Space, as a member of the board. About one year later, he was appointed President of Portugal Space.
The Webtalk starts with a brief space history of the nation that was once pioneering exploration with its famous navigators. Conde explains that Portugal's journey into space started before the 1990s. However, the first big milestone was 1993, when they launched the first Portuguese satellite, PoSAT-1. Then the country started getting involved in international programs before the second milestone in 2000, when Portugal joined ESA. Now over 20 years later, the country has a vibrant space ecosystem with more than 60 entities. 
"So this is my message. We need to do it in a collaborative way. You cannot do it alone."
Regarding Portugal's space ambitions, Conde states that instead of focusing on going to Moon or Mars, there has to be a national program that addresses needs that can be solved with the help of space. With the huge amount of Earth observation satellites, artificial intelligence and supercomputing, problems like plastic tracking, monitoring the Atlantic Ocean, and fire prevention can be resolved on Earth.
Conde says that all the skills that Europe currently has is because of ESA so the national programs have to empower ESA in several domains as space serves our lives more and more. He also believes that space is an answer for security problems. Another dimension Conde thinks is important to focus on is education as the country needs future professionals to work in these areas. 
To engage the younger generation, Portugal organises the European Rocketry Challenge (video attached) every year and also launched the "Astronaut for One Day" program for 11-14-year-old school children. The program will allow 30 students to fly this September on a plane simulating microgravity. The Portugal Space Agency is also involved with outreach and science literacy in other ways, for example, Cansat competitions, PhD calls, and summer scholarships.
To listen to the Space Café WebTalk's insights, you can watch the full program here:
Viktoria Urban, contributing Editor at SpaceWatch.Global: After graduating as a Journalist from Edinburgh Napier University, I am now doing an Astronomy and Planetary Science degree at The Open University (Scotland) which has enhanced my already existing love and enthusiasm for space. I am also a member of and a volunteer for several societies both in Hungary and in the UK and write online content on space for multiple companies as well. I hope my science communication will encourage many to find a job in the space sector, whatever their background and highlight important issues to ensure a sustainable space environment for future generations.