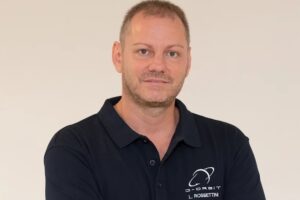 In the second episode of Space Café Italy on 6th April 2022, Dr. Emma Gatti is in conversation with Dr. Luca Rossettini, the CEO of D-Orbit. D-Orbit is the in-space transportation service company that recently went public through a merger with Breeze Holdings Acquisition Corp. in a deal that valued the Italian firm at $1.28 billion. In this Space Café we had the chance to have an informal chat with Luca and ask him about his vision regarding Italy, his company, and the Space sector at large. Here is a brief recap of the major points. Don't miss the full interview on our channels!
How can the Italian public sector help the private enterprises to develop?
First of all, public money should be used to enable the commercial marketplace. Both in Italy, in Europe and in the US, 80% of the investment come from public money, and only 20% from private ventures. Secondly, Italian businesses should be encouraged to stay in Italy and invest in Italian companies. This would allow to larger companies to grow faster and bring more innovation on board.  It is a major issue if the Italian government invest in a start-up, and then the acquisition is made in the US. Thirdly, institutions should become anchor customers, and major sponsor-clients of high-risk, innovative technologies never been tested before. This would help the private business to develop and sell innovative tech and grew in competitiveness.
A global perspective on major space challenges: is sustainability in Space achievable?
Space needs to change its mindset and start thinking in terms of the circular economy. We need to start thinking about recycling satellites rather than destroying them. A satellite can become something else, we can re-use the material to make smaller, lighters, faster vehicles. Removing debris by burning it up in  the atmosphere is not a clever solution, it's just short-term. We must build an infrastructure that allows us to reuse satellites over and over again. And we need to move away from the so-called "locust" mentality: we cannot exploit each planet to the very last drop, and then move onto another planet. Space is not infinite in terms of human-usable resources.
The D-Orbit of tomorrow: where are you taking your company?
In-Orbit services will become more and more important as the industry expands into space. In the future, we will need vehicles able to transport things and people from Mars, to the Moon, to the asteroid belts, and these vehicles will need to be assembled in space, not on Earth. Orbital manufacturing will need resources coming from the orbit itself, recycling stations and satellites, repairment services: everything will need to be transported and moved in orbit. And that's the direction D-Orbit is starting to explore.
What's your latest project Made in Italy?
For the Lombardy region, we are working on a beautiful project to monitor critical infrastructures like bridges and dams using satellites and a system of in-orbit cloud computing. It's something revolutionary, that will change how we use satellites.