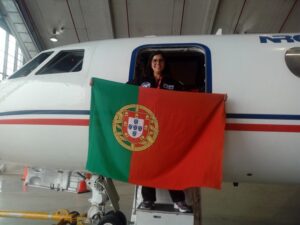 Edinburgh / Boulder, 13 April 2022. – The US-based International Institute for Astronautical Sciences (IIAS) signed a Memorandum of Understanding (MoU) with Portuguese institutions focused on STEM research and space education, IIAS announced.
The institutes include the Portugal Space Agency, Institute for Systems and Computer Engineering, Technology, and Science, School of Engineering of Porto, and the Faculty of Sciences of the University of Porto. Signatories will pursue joint, international activities that advance geoscience, robotics, bioastronautics, and suborbital science, IIAS said. The joint research projects will grant access to facilities, experts, and training to demonstrate progress and critical discoveries.
This MoU was signed under IIAS' outreach initiative, Space For All Nations, which enables emerging space nations to contribute to novel solutions for space. The newly formed partnership will foster inclusive access to innovative research collaborations expanding the capabilities and missions of the participants.