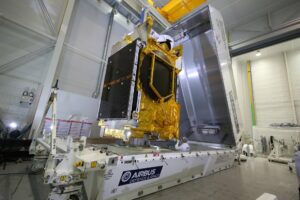 Edinburgh / Seoul, 13 April 2022. – South Korea signed a contract with SpaceX to launch five of its spy satellites by 2025, the Defense Acquisition Program Administration (DAPA) confirmed. The first launch will take place by the end of 2023 onboard of a Falcon 9 rocket, delivering an 800-kg electro-optical infrared satellite to low Earth orbit.
The deal is part of the the defense ministry's '425 project,' a space-based reconnaissance programme launched in 2018. Its aim is to monitor North Korea's military activities. The five satellites, four of which are synthetic aperture radar (SAR) satellites, will image key military facilities every two hours.
The US $970 million project was led by the Agency for Defense Development (ADD) and the Korea Aerospace Research Institute (KARI). ADD developed the four SAR satellites in cooperation with Korea Aerospace Industries and Hanwha Systems with technical assistance from Thales Alenia Space. KARI developed the electro-optical infrared satellite.
This is the second time South Korea contracts SpaceX for a space-based military mission. The first project saw Falcon 9 put South Korea's first military communications satellite, Anasis-2, into geostationary orbit in 2020.