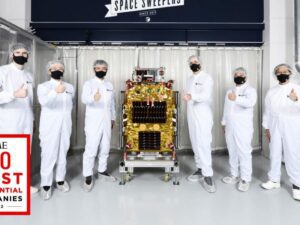 Edinburgh 7 April 2022. – Astroscale received a funding award from ESA who have selected the company in the UK to lead a collision-avoidance study that is part of ESA's Collision Risk Estimation and Automated Mitigation (CREAM) activities in the Space Safety Program. 
The company's UK team will partner with GMV and OneWeb to develop methods and solutions for effective collision avoidance management. They will utilize innovative tools such as inter-satellite links, ground station networks, and on-board processing. The study is valued at €800,000 and it will make recommendations for late commanding paths. This will enable late decision making in collision avoidance, saving time and resources from unnecessary maneuvers, the company says.
Astroscale has recently been named one of Time's 100 Most Influential Companies reflecting the firm's vision to make space sustainable. The company's ELSA-d project was also awarded 2021 Satellite Technology of the Year. Meanwhile ELSA-d Project Manager, Seita Iizuka, received the Minister of State for Space Policy Award from the Cabinet Office, Government of Japan.