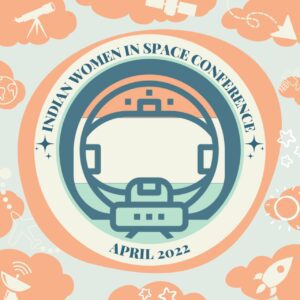 The Indian Women in Space Conference is a first-of-its-kind gender minority-focused space conference taking place virtually in India. It is headlined by WoAA (Women of Aeronautics and Astronautics) India started in August 2020. The aim of the conference is to bring together women and gender minorities from diverse backgrounds of space art, engineering, astronomy, industry, etc to expose the Indian audience to the world of space. SpaceWatch.Global is excited to engage as the conference's media partner and support the cause of inclusion and representation. The conference taking place on the 8th and 9th of April 2022 will see speakers such as Dr. Swati Mohan (Guidance and Controls Operations Lead on the NASA Mars 2020 mission, NASA JPL) , Dr. Annapurni Subramaniam (Director IIA Bengaluru), Rachana Reddy  (New space India and Reflex Aerospace Berlin), Srishti Bajpai (Pixxelspace) among many others. 
The conference hopes to expose Indian undergrads, graduate students, and young professionals to the global space industry through its variety of panels and lightning talks. The conference features Indians as well as people of Indian origin across the world. WoAA India is dedicated to the cause of representation and the creation of safe spaces for all genders. We intend to provide a platform for underrepresented voices and provide a platform that bridges the gap for students/young professionals with a lack of access to knowledge, opportunities, and mentorship. The Indian Women in Space conference (IWSC) is our first major step toward bringing about awareness and creating a safe platform for all. The conference schedule can be found on the website and registrations are free of cost.
As India emerges as a new, strategic, and key player in the global space economy we recognize the importance of featuring its various past accomplishments and paying homage to the foundations built over the last few decades and hope to highlight the next steps for the country and the role women and gender minorities play in it.
Register here:
WoAA India and the conference committee look forward to your participation.