by Viktoria Urban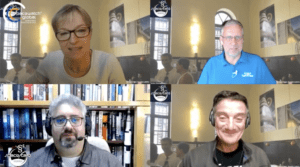 The 8th Space Café – Space Law Breakfast with Steven Freeland took place on Thursday, 24th March speaking to Irmgard Marboe and Olavo Bittencourt about what is happening in the world, and how space laws are relevant and pertinent to real events. 
Irmgard Marboe is a Professor of international law at the University of Vienna and the head of the ECSL National Point of Contact for Space Law Austria. She was the chair of the Working Group on National Space Legislation of the Legal Subcommittee of the UNCOPUOS between 2008 and 2012 and advised the Austrian government in the development of the Austrian Outer Space Act of 2011. She is a regular member of the Austrian delegation to UNCOPUOS and a member of the Panel of Arbitrators for Space-related Disputes at the Permanent Court of Arbitration, The Hague.
Olavo Bittencourt is a Professor of International Law at the Catholic University of Santos. Arbitrator for space-related disputes at the Permanent Court of Arbitration. Member of the Board of the International Institute of Space Law. Co-vice chair of the Hague International Space Resources Governance Working Group. Brazilian delegate at the United Nations Committee on Peaceful Uses of Outer Space. Member of the Editorial Board of the Journal of Air and Space Law. Member of the Brazilian Association of Air and Space Law and the Ibero-American Institute of Aeronautic and Space Law and Commercial Aviation. Recipient of the IISL Diederiks-Verschoor Award.
Marboe and Bittencourt both describe the wonders of space and space law in one word. Marboe chooses the word "sublime" as she thought it puts worries and problems into perspective.
"If we think about space, it expands our minds and inspires our imagination."
Bittencourt on the other hand chooses the word "boundless" as in outer space, there are no boundaries and the legal nature of space should be recognized as a global commons.
Marboe then goes on to highlight the Outer Space Treaty 1967, the foundation of all space law. She explains that we should not underestimate the preamble as it contains the object and purpose of the treaty. It recognizes the common interest of all mankind in the progress of the exploration and use of outer space. It is based on the belief that such cooperation will contribute to the development of mutual understanding, and to the strengthening of relationships between states and peoples. She says that the importance of cooperation was highlighted from the beginning of space exploration. 111 countries have signed the Treaty so far.
Bittencourt thinks it is important to understand the relevance of space technology and space capabilities to the economic, political, and social development of the nations. On the other hand, it is also important to realize that access to space technology is not universal but there is a divide between spacefaring and non-spacefaring nations. He says that international cooperation could be one tool to end this division and the United Nations plays a major part in this process.
Marboe says that an international space organization, such as the ICAO for civil aviation could be very useful but the stumbling block is that, unlike ICAO, there are not so many countries interested in such an organization. She also thinks that from a European perspective, it will become increasingly important whether a country shares the European values before it can cooperate in the area of outer space.
Bittencourt highlights that we must not ever take the power of international cooperation for granted. He believes that ISS may serve as a milestone that can inspire people towards such solutions, as men and women from different nationalities, with different cultural backgrounds, have been capable of effectively working together in a hostile environment there for the benefit of humankind. He also admits that diplomacy is not easy though.
Marboe finishes by stating that long term sustainability and space traffic management have become urgent subjects and there is a dire need for national space legislation.
Bittencourt concludes by saying that we have to work together to find solutions, keeping an open mind to other perspectives in order to tackle the main issues related to space activities.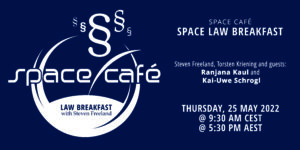 We hope that you will enjoy this discussion and will already note in your diary to join us in New Dehli for the next Space Café "Law Breakfast with Steven Freeland" on 25 May 2022, with our fabulous guests, Ranjana Kaul and Kai-Uwe Schrogl. There will be so many issues to discuss.
Please let us know if there is a particular event or issue that you want our expert panel to help to 'demystify'. We are always interested in your views and suggestions.
We really hope you will join us for breakfast in March! See you then!
This Space Café "Law Breakfast with Steven Freeland" was held on 24 March 2022.
SpaceWatch.Global
 is a Switzerland-based digital magazine and portal for those interested in space and the far-reaching impact of the space sector.
To listen to the Space Café Law Breakfast's insights, you can watch the full program here:
Viktoria Urban, contributing Editor at SpaceWatch.Global: After graduating as a Journalist from Edinburgh Napier University, I am now doing an Astronomy and Planetary Science degree at The Open University (Scotland) which has enhanced my already existing love and enthusiasm for space. I am also a member of and a volunteer for several societies both in Hungary and in the UK and write online content on space for multiple companies as well. I hope my science communication will encourage many to find a job in the space sector, whatever their background and highlight important issues to ensure a sustainable space environment for future generations.