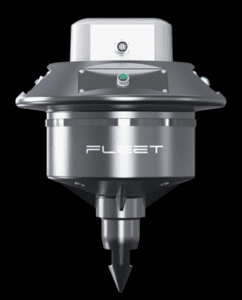 Edinburgh / Adelaide, 29 March 2022. – Australian space tech startup Fleet Space Technologies wants to support the green transition of mineral exploration with its GeoSphere system, the company said.
GeoSphere – a combination of wireless Geodes, edge computing and a constellation of low earth orbit nanosatellites – assesses the viability of sites for mineral and material deposits up to 100 times faster than traditional methods, Fleet Space says. As no explosives, noise machines or drilling are required, it also minimises the environmental footprint.
The combination of ambient seismic noise tomography, low-power satellite connectivity and intelligent cloud processing will help the discovery of copper, gold, cobalt, nickel, lithium and other minerals, the startup says.
The 50 sq/km grid of satellite-enabled Geodes can be easily installed, they are hand-transportable, wireless, battery-operated sensors. Each contains a processing unit, satellite transmitter and a seismic sensor to map the properties of the Earth's subsurface. The process of mapping from reflected seismic waves by recording ambient noise is know as Ambient Noise Tomography (ANT).
The data are then processed through a machine learning algorithm capable of delivering a 3D visualisation down to a 2 km depth. A clear image of available resources can be generated in as little as four days as opposed to the usual 6-12 months in case of existing ANT technology, Fleet Space says.