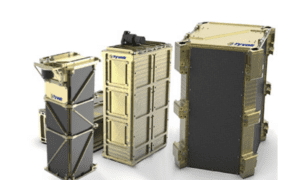 Edinburgh / Boca Raton, 29 March 2022. – Small satellite manufacturer company Terran Orbital, primarily serving the aerospace and defense industry in the U.S., announced it will start trading on the New York Stock Exchange under ticker symbols "LLAP" and "LLAP WS".
The firm has made progress recently including an employee growth of 300% and a facility expansion from 5600 sqm to over 23,000 sqm. Terran was also selected to build 42 satellites for the U.S. Space Development Agency.
2022 is packed with several critical satellite missions for the company, like NASA's LunIR, launching on the Artemis I to support observations of the Moon. Terran is also to deploy Capstone, an optical Earth observation satellite, and a 6U cubesat mission, both for NASA.
The firm is about to build the "Industry 4.0" space vehicle manufacturing facility, a $300 million, 61,000 sqm facility in Florida.