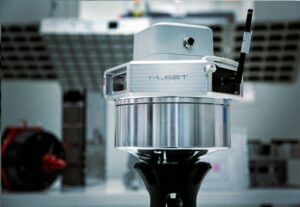 London, 17 February 2023. – On the 16th of February Fleet Space – a satellite communications company based in South Australia-  has announced it will deploy its satellite-enabled ExoSphere seismic exploration system at Tambourah South tenements in West Australia, owned by Infinity Mining – a exploration and mining company. 
Fleet Space and Infinity Mining will work together to enhance mineral exploration activities and decrease time spent exploring for deposits of lithium, rubidium, and rare earth elements at Tambourah South. The mined minerals are used in several industries, such as renewable energy. 
ExoSphere consists of real-time, satellite-enabled seismic nodes specifically designed for mineral exploration in remote settings called Geodes. The combination of Geodes and satellite connectivity allows teams to map land accurately and with little environmental disturbance. Data collection and processing can be completed in a matter of days, compared to months or years by traditional methods. 
"We're delighted to be working on a major domestic mineral exploration project with a fellow Australian-owned company," says Flavia Tata Nardini, CEO & Co-Founder, Fleet Space Technologies. "ExoSphere gives Infinity Mining a unique opportunity to use our advanced ANT technology to map possible lithium-bearing pegmatites, potential host rocks and controlling structures at depth."
The Ambient Seismic Noise (ANT) data is transmitted to a constellation of low Earth orbit (LEO) satellites, which relay to computers using intelligent data processing to generate detailed 3D subsurface maps. 
"The ANT technique is easy to deploy, data is recovered in real time and requires no ongoing field work once in place," says Joe Groot, CEO of Infinity Mining. "If the technique proves useful at Tambourah South, Infinity could also deploy it in other tenements where cover and topography are hindering surface exploration and drill targeting."
At Tambourah South the data will be collected over a one-month survey period.