by Judith Delany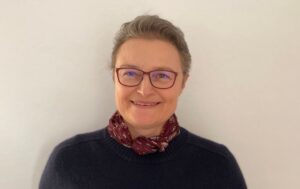 The first-ever Space Café Austria by Judith Delany took place on Thursday, 24th of February. Guest Andrea Kleinsasser, Deputy Head of the Department of Space Affairs at the Federal Ministry of Climate Action, Environment, Energy, Mobility, Innovation and Technology, shared her personal experience and insight outside of her work for the government into Austria's role and engagement at UN COPUOS.
In her five years as part of Austria's delegation, Andrea really learned to appreciate the unique work culture of the Committee on the Peaceful Purposes of Outer Space, part of the United Nations Office of Outer Space Affairs.
"The special thing about the UN Space Committee is the consensus principle. In my view, this is also the biggest difference to European bodies in which we're allowed to represent Austria and in which votes are taken according to different majorities," says Andrea.
The consensus principle means that each country says what it has to say and a solution is developed jointly from the different positions. There is no voting according to different majorities, but rather negotiations until no one has any more objections. This procedure is also called Vienna Spirit. Everyone is willing to compromise a little bit to find a common solution. This also means that delegations have to present their arguments in person, they have to be present and explain their position. This strong culture of presence creates an intensive debate that illuminates the most diverse aspects. A time-consuming procedure for sure, but great for achieving results every party is willing to accept.
Austria has a special role at COPUOS. It is not just member state, but also host to UNOOSA.
As a member, Austria represents national interests and pursues issues that are important to them nationally. As the home of the UN Space Office and the Committees, Austria makes sure that the Office and the Committee are "doing well". This can mean financial help for the work of the office by helping to organize events, support to strengthen the position of UNOOSA in the international UN System, or in form of joint events. One of these joint events Is the World Space Forum, which was held virtually last year, which also helped to promote the important initiative "Space4Climate Action".
Climate Action is the Sustainable Development Goal 13, and interestingly there had been no activities from the office on this so far. Therefore Austria used this and other events they organised together with the UN Office as platforms to further develop this important topic.
But it's not just Austria that influences the activities at UNOOSA and COPUOS, but also COPUOS that influences the activities in Austria. In 2019, at the 62nd Session of the Committee, the member states adopted the Long-Term Sustainability guidelines for Outer Space (LTS). These guidelines have also been implemented in Austria, in form of a national space law, support in the observation of space debris or as a member of ESA projects. But while the LTS have a focus on sustainability in space, Austria has a focus of sustainability yon earth. The new national Space strategy 2030+ has a clear focus on sustainable development and climate action with the help of space technology as well as sustainability of the national space sector.
"Activities and measures have been defined for all of these topics and are now to be implemented in the near future."
The future hopefully also brings a return to meeting the other delegations in Vienna again.  For the past two years, COPUOS has been held virtually due to the ongoing pandemic, but is likely to be an in person conference once more coming June. When asked what she wants for COPUOS in the future, Andreas answer is clear.
"I hope that the committee remains professional. The task of the future is a great one: to maintain space peacefully, safely and sustainably so that everyone can benefit from the advantages of space technologies. We would like to actively contribute to this as the host country and as a member country in the UN Space Committee. "