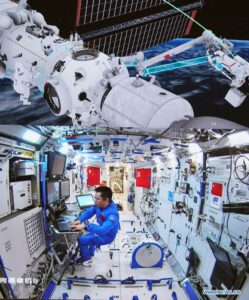 Edinburgh / Washington, 4 February 2022. – The United States has refuted China's diplomatic accusation that SpaceX's Starlink satellites have endangered its crewed space station, in an official note verbale to the UN Office of Outer Space Affairs in Vienna.
Beijing issued their note verbale in December to the same UN office. According to that the Tianhe core module of Tiangong had to maneuvre away from a Starlink satellite on two occasions to avoid collision. China also asked the UN to remind US parties about their obligations under the 1967 Outer Space Treaty. The Office of Outer Space Affairs has no official role in mediating such disputes.
The US counter-missive states that the US Space Command routinely warns nations of dangerously close approaches between spacecraft. The US also claims that Beijing did not seek to communicate with them about these possible encounters. Neither countries disclosed how close the satellites were to the space station.