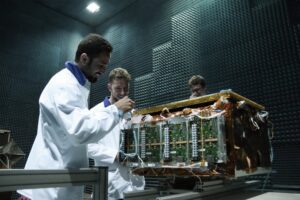 Edinburgh / Helsinki, 4 February 2022. – SAR data provider and expert in NatCat solutions, Iceye, announced the closing of a US $136 million series D funding round, led by investor Seraphim Space.
New strategic investors include BAE Systems and Kajima Ventures among others. Molten Ventures, Services Group of America, Space Capital, Promus Ventures and many more have also participated in the funding round.
Iceye has raised a total of US $304 million in financing since 2015, including this round. The company owns and operates the world's largest constellation of synthetic aperture radar (SAR) satellites and has launched 16 missions.
The firm will use the new capital to grow its Natural Catastrophe (NatCat) solutions offering. It will also further develop its existing satellite constellation and related technologies, reducing access time while increasing visiting frequency. Iceye will also make further investments towards its analytics services, including artificial intelligence and machine learning.
The company's services benefit insurance loss adjustment, natural catastrophe response and recovery, national security, humanitarian relief and climate change monitoring.