By Luisa Low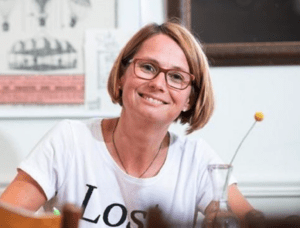 During this week's Space Café, SpaceWatch.Global Publisher Torsten Kriening got the opportunity to speak with Dr Nanja Strecker, an experienced innovation expert and Managing Director of the European Space Agency's Business Incubation Centres Switzerland (ESA BIC CH), a start-​up support program operated by the globally renowned research university, ETH Zürich.
ESA BIC CH supports Swiss start-​ups that use space technologies – either technologies developed for space that are adapted for use on Earth or solutions from Earth that can be adapted for use in space.
In this role, Dr Strecker actively supports space innovation in Switzerland, working with deep-tech startups. She also teaches university courses in Germany and Switzerland.
This week, she and Torsten discuss the space sector in Switzerland and how ESA BIC CH is giving lift off to the space heavyweights of the future.
Europe's success story
Since joining the ESA BIC CH program in 2016, with Dr Strecker at the helm ETH Zurich has supported over fifty startups, with plans to provide financial, technical and business support to another fifty over the next five years.
It's an ambitious plan but so far its results have been nothing to sneeze at. Successful applicants from even the furthest flung cantons can receive up to €200,000 in seed funding, as well as access to an extensive and unique partner network comprised of large incumbents and highly regarded space actors.
To participate, startups have to have some form of space connection, Swiss-based and legitimate fledgling businesses – less than five years old. The program also caters its offerings towards three pillars of the industry, which include infrastructure, distribution and application.
The program has helped in the propagation of 'pure' space companies as well as ones with dual capabilities, otherwise described as "space and something else". With an experienced innovation practitioner like Dr Strecker steering the ship, an impressive number of graduates have soared to teetering heights.
"There's quite a lot of support for startups in Switzerland… the whole ecosystem for startups has really taken on a new level – a new dynamic – in the last five years."

"We have supported 50 [startups] – so far, we can support 10 new ones every year, and then they stay for two years in the program. They've created between 500-600, new high tech jobs in Switzerland, having raised over $230 million in third-party money."

"We estimate between ten and fifteen have at least $1million in revenue every year. That is very important, because we want to support companies to grow into businesses that make money. So not only is fundraising important, but so is making money through selling products, services – so we're quite proud of that."
ESA BIC CH are also keen to support "spin-ins" – startups with an Earth-based technology that could be 'spun in' from Earth to space. According to Dr Strecker, they're a good idea because moving upwards in the traditional space sector can take a long time.
"Why do we have a lot of them in Switzerland? I think it's thanks to our very strong technological basis from [our] two technical schools."

"Decision making is slower in the space sector. So, it's good that they have other verticals where they can already establish a business, but they have various benefits for going into space as well."
Space – never an easy path
They say never take an easy path. Space, as the path less (often never) travelled, it's a territory that brings its own unique challenges.
With so much capital flowing into the sector, and myriad applications and actors, navigating this ecosystem, as well as its programs and jargon can be somewhat of a jungle, according to Dr Strecker.
"It's complex. There are all these programs and initiatives. And it's a bit of a jungle quite honestly – and we see it as our role to help the startup navigate this jungle."
They also provide support in navigating ESA, which as a large inter-governmental organisation spanning Europe, can be a complex bureaucracy even for the most adept broker.
ESA BIC CH also helps start-ups understand the dynamics of doing business elsewhere, partnering with tech start-up program VentureKick, offering international excursions to places like Silicon Valley and China.
To listen to Nanja Strecker's insights into the space disputes, you can watch the full program here:
Luisa Low is a freelance journalist and media adviser from Sydney, Australia. She currently manages Media and Public Relations for the University of Sydney's Faculty of Engineering.