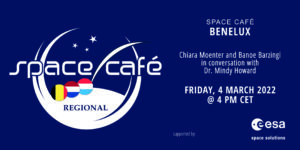 This Space Café BeNeLux will feature Dr. Mindy Howard, in conversation with Chiara Moenter, event coordinator at SpaceWatch.Global and her co-host of Space Cafe BeNeLux, Banoe Barzingi.
Spiral Dynamics: Space, science, and spirituality.
Dr. Mindy Howard has set out to passionately achieve her dream of going to space. After her 21-year career in the oil industry, working in 35 different countries as a trainer, senior leader and engineering advisor, Dr. Howard harnessed her academic and professional skills to create the first and only psychological space training program, "Inner Space Training". Dr. Howard is in discussions with several organizations to train, coach, and accompany commercial astronauts to space. In addition, Dr. Howard is working for Blue Abyss Ltd., the world's first commercial astronaut training center as the Director of Inner Space Training. She has appeared on the Discovery and Travel Channels, and on the radio both in the United States and in Europe as a space correspondent and commentator. Dr. Howard is also a TEDx speaker ("Train your fear away, like an astronaut") and is a Guest Lecturer at the International Space University. She is the author of her book entitled, "Blast off! Train like an astronaut for success on earth." Blast Off! is the first book to use the techniques of commercial astronaut training to help people right here on earth maintain the anxiety-free emotional equilibrium and sustained mental focus needed to successfully overcome the day-to-day challenges and obstacles in their personal and professional lives.
Together with Mindy, we will discuss a broad range of topics ranging from her experience in commercial space training, methods to reach the other 99%, women in space and STEM and looking out at crisis and conflict explained through the spiral dynamics model.
The audience will have an opportunity to ask questions in dialogue with Dr. Mindy Howard.
SpaceWatch.Global is a Europe-based digital magazine and portal for those interested in space and the far-reaching impact of the space sector.
This Space Café BeNeLux will be conducted in English on 4th March 2022 at 4pm CET.
Reserve your place today.