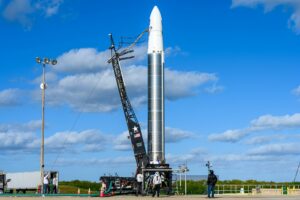 Edinburgh, 11 February 2022. – Astra Space's first orbital launch with operational payloads failed to deliver four satellites to orbit due to an issue after main engine cut off. The company said they would provide an update after reviewing data working closely with the U.S. Federal Aviation Administration. Previously, the mission was scrubbed twice within a five-day period due to a radar system, and then a telemetry issue.
The ELaNa (Educational Launch of Nanosatellites) 41 mission launched yesterday onboard of the 13-m-tall Launch Vehicle 0008 (LV0008). The two-stage rocket had a smooth launch,  and performed as expected up to about 3 minutes into flight. After the first and second stages separated, onboard camera footage showed the rocket body spinning.
Space startup, Astra, founded in 2016, aims its mass-produced, cost-efficient rockets at small satellite companies. Astra has conducted four orbital test launches prior to yesterday's failure reaching space on two occasions. The LV0007 even managed to reach orbit during the most recent test flight.
The LV0008 carried four satellites for NASA, the University of Alabama, New Mexico State University, and the University of California. Astra is planning three more missions this year. Meanwhile Robbins Geller Rudman & Dowd announced a class action lawsuit against Astra Space alleging that the company made false and misleading statements and failed to disclose vital information to its shareholders.