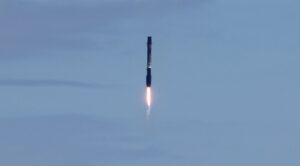 Edinburgh / Cape Canaveral, 14 January 2022. –  SpaceX successfully launched 105 spacecraft aboard a Falcon 9 launch vehicle yesterday during its third dedicated smallsat rideshare mission, Transporter-3.
The rideshare program was announced in 2019, offering small satellite operators to launch for a combined price of US $1 million.
Transporter-3 carried CubeSats, microsats, PocketQubes, and orbital transfer vehicles into polar orbit, allowing satellites to scan the planet daily. The upper stage reached orbit eight and a half minutes after takeoff with payload deployment an hour later. The deployment sequence was carefully timed to minimize the risk of collisions. SpaceX also utilized specialized launch dispensers and transfer stages to halt spacecraft release.
The customer with the largest number of spacecraft was Earth observation company Planet, launching 44 SuperDove satellites during the mission. Spire Global had four Lemur satellites, Kepler Communications had three, while Capella Space and Iceye had two satellites on board. German start-up OroraTech launched the first in a series of cubesats.
The biggest satellite aboard Falcon 9 was the Ukrainian government's Sich 2-1, a 170-kg Earth imaging satellite. Other customers included Umbra, Unseenlabs, the Dubai Electricity and Water Authority, and the Norwegian University of Science and Technology. Sen, NuSpace, and The South African government also had spacecraft on board. Spaceflight was forced to remove its payload from the mission due to a leak in its chemical propulsion system.
The Falcon 9 first stage performed the first land landing since the Transporter-2 mission last year. This was the booster's tenth flight and the company's 102nd recovery. SpaceX is planning three more dedicated rideshare missions this year.