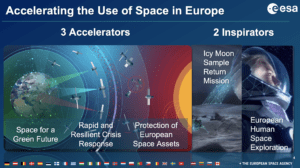 Paris, 19 January 2022. – The European Space Agency (ESA) wants to accelerate the use of space in Europe with an annual budget of € 7.15 billion, the agency said.
The largest envelopes are invested in Earth Observation (€ 1.6 billion), Navigation (€ 1.5 billion), and Space Transportation (€ 1 billion), with two thirds coming from the 22 Member States and one third from the European Union. Copernicus suffers a budget shortfall of € 750 million due to the withdrawal of the UK, ESA Director General Josef Aschbacher said in the annual press conference of the agency in Paris. The Sentinel-1B satellite has not sent data since Christmas and suffers technical issues which are under investigation.
ESA's "accelerators" for the use of space are "Space for a Green Future", with the Digital Twin Earth project in particular, the "Rapid and Resilient Crisis Response" system that ESA is working on, and the "Protection of European Space Assets" against space debris and space weather.
On top of these "accelerators", the agency launched two "inspirators": the Icy Moon Sample Return Mission and the European Human Space Exploration program. ESA is lacking capabilities in crewed space transportation and exploration, Aschbacher said, with a 2021 budget of only € 735 million for that area, compared to $ 12.2 billion for NASA.
ESA's "Terrae Novae 2030+" plans in space exploration for 2030 and beyond include the ExoMars, Mars Sample Return, Orion Service Module and Gateway missions.
Major launches of telecom satellites in 2022 where ESA is involved include the first Eurostar Neo satellite from Eutelsat, the Oneweb 5G partnership Joeysat, 3 Pioneer Spire cubesats, and the next two batches of Galileo, L12 in March or April and L13 in autumn. The maiden flight of Ariane 6 is in preparation, with the combined tests taking place in the second quarter of the year and no precision on the launch date, while Vega C's maiden flight is planned for May, ESA said.