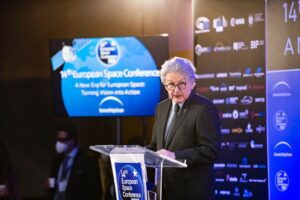 Luxembourg/ Brussels, 26 January 2022. – Europe has to accelerate the development of its space assets and architectures to "weigh in on the global stage", the European commissioner for internal market, Thierry Breton, said.
As first of four priorities, Europe needs to consolidate its existing assets and accelerate the deployment of the second generation of Galileo, he said. Breton expects to receive the first second generation satellite and proceed with its launch in 2024. Galileo will operate "real technological breakthroughs such as digitally configurable antennas, inter-satellite links, new atomic clock technologies, use of full electric propulsion systems", he said.
Europe also has to rethink and modernize Copernicus, the commissioner said, "the best earth observation system in the world", to make it "more green, more digital, and more reactive".
Looking at launchers, "Europe can rely on its historic launchers with Ariane and Vega, which are the result of decades of investments and accumulated know-how", Breton said. "But here again, against strong competition, we must develop a fully-fledged European launcher strategy that will ensure its needs, its global position and its autonomy for the next 20 to 30 years."
The commission will formally launch the European Space Launcher Alliance, he said, "to define a technological roadmap and a holistic European approach to launchers, combining the need to consolidate our existing – and indispensable – launchers while setting the right framework for small and micro launchers to emerge".
Breton reiterated that Europe should equip itself with a "geopolitical" space-based connectivity infrastructure, to provide high-speed internet access to all European citizens, ensure redundancy with terrestrial infrastructures, and develop quantum encryption.
The system should be multi-orbital, have a governmental and a commercial service, integrate from the start the military usage and needs, and avoid any dependencies on third countries, he said. He expects first services to deploy in 2024. "It is ambitious, but feasible."
Europe will also define its strategy for Space Traffic Management and spur innovation in space "through the first ever Space Partnership", he said. The commission will soon publish "a new call to collect potential candidates – payloads or experiments – that need in-orbit demonstration and validation services".
"We will also use public procurement to stimulate the launcher ecosystem, in particular for mini- and micro-launchers, by giving them launch service opportunities. This is the flight ticket initiative." As of 2023, new launch systems will have the possibility to provide launch services for certain institutional launches, starting with In-Orbit Demonstration and Validation, he added.
Improving access to financing, the commission signed the start of the Cassini space investment fund with the European Investment Fund (EIF) to deploy an investment capacity of at least €1 billion in support of space start-ups.
The commission also intends to put forward a Space & Defence Strategy with the objective to expand the defence dimension in existing and upcoming EU infrastructures, develop new infrastructures as dual-use by design, reduce Europe's technological dependencies and reinforce the resilience of its value chains in critical sectors for space such as quantum, artificial intelligence and chips, Breton said.
"Time is of the essence. You can count on me."