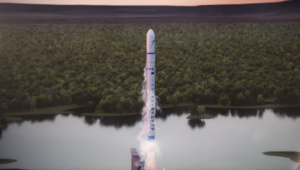 Edinburgh /Munich / Brussels, 26 January 2022. – Launch service provider Isar Aerospace announced it has won the European Commission's EIC Horizon Prize "Low-Cost Space Launch" award, receiving €10 million in prize money.
The prize was awarded to Isar for its launch service solution using the two-stage launch vehicle, Spectrum. The rocket offers flexible and cost-efficient access to space for small and medium-sized satellites and constellations.
The formal prize announcement was made yesterday during the 14th European Space Conference in Brussels. Isar said the award was "a vote of trust by the European Commission." The prize will be used for further research and development as well as for test and launch infrastructure.
The award is a funding opportunity within the Horizon 2020 Research & Innovation Programme under the European Innovation Council Pilot. It aims to identify and support technologies and innovations creating new markets that have the potential of scaling up internationally. Isar received the highest cumulative score for the award criteria of "excellence, technical implementation, and service sustainability of the solution". 
Since its founding in 2018, Isar has raised private funding of over €150M attracting both commercial and institutional customers. The company has a vertically integrated manufacturing facility and is working towards the first test flight planned for the end of this year.