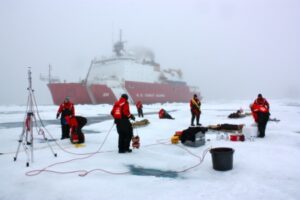 Edinburgh / Vienna, 22 December 2021. – The United Nations Office for Outer Space Affairs (UNOOSA) signed an agreement with the United Kingdom to address the information gap for space-related climate actions, the United Nations Information Service reported. 
Space-based data and applications have long been utilized in climate change monitoring, research, and policy enactment. However, there is a missing comprehensive overview of current and planned activities in this area, which the new partnership aims to address.
The UN and the UK will build synergies, facilitate coherence while working to avoid duplication of efforts. The Strategic Mapping Exercise will enable the two parties to review existing activities at the international and regional levels.
Global leaders addressing climate change at the COP26 in Glasgow, said that a holistic, collaborative approach was needed to tackle the crisis. The UK-UN collaboration will aid policymakers, international and regional organizations, industry, academia, experts, and civil society as well. The project will help better understand technical, policy and coordination efforts to be used in strategy development and research.