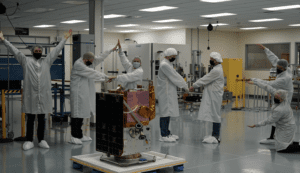 Edinburgh, 9 December 2021. – Loft Orbital raised $140 million in a new round of funding led by investment company BlackRock, CNBC reports.
Loft launched its first two commercial ride-share satellites earlier this year. The company is to use the new capital to extend its business and double its team.
The firm has raised $130 million from CEAS Investments, Uncork Capital, Foundation Capital, and Ubiquity VC among others. Loft also raised an additional $10 million from the same investors through convertible notes.
The start-up, founded in 2017, launched missions YAM-2 (Yet Another Mission) and YAM-3 in June this year. The deployments brought ten different customer payloads to orbit. Loft Orbital will also manage these satellites for the next few years, through its Cockpit mission control software.
The company has facilities in San Francisco, Denver, Colorado and Toulouse, France. Currently, 70 employees work for the firm, which is expected to grow to about 160 by the end of 2022. Future Loft Orbital mission customers include Honeywell, NASA, and the U.S. Space Force.