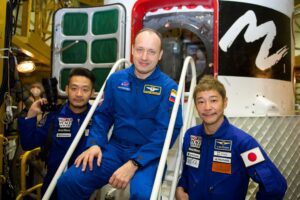 Edinburgh, 9 December 2021. – Roscosmos and Space Adventures have launched and successfully docked the Soyuz MS-20 space tourism mission with two space tourists on board, NASA reported.
The spacecraft docked with the ISS' Poisk module six hours after launch. The crew of three, including two Japanese space tourists will stay on the Space Station for 12 days.
Roscosmos cosmonaut Alexander Misurkin is accompanied by Yusaku Maezawa, a Japanese billionaire starting online businesses Start Today and Zozo. The third crew member is Yozo Hirano, Zozo's media producer, whose job is to document the mission. 
Maezawa and Hirano will mainly remain on the Russian segment of the Station. The only planned visit to the U.S. side is going to be to the cupola for filming. Hirano will conduct biomedical research collecting data on the effects of microgravity on the human body. In addition to this, both space tourists will participate in various other experiments.
The flight marks the first for any Japanese space tourist and the first mission for space tourism company, Space Adventures, in more than a decade. The company is planning a second flight for 2023. That mission will allow a private astronaut to perform a brief spacewalk outside the ISS as well.