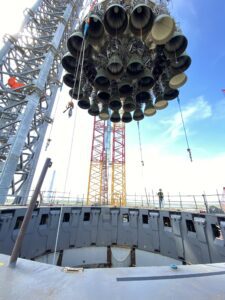 Budapest / Las Vegas, 19 November 2021. – SpaceX can have Starship's first orbital flight as early as January, pending regulatory approvals, CEO Elon Musk said at a joint meeting of the National Academies' Space Studies Board and Board on Physics and Astronomy. 
According to Musk, the company is in the final preparations of both the vehicle and their new launch site in Boca Chica, Texas. Both the Starship vehicle and its Super Heavy booster are complete, while the launch pad and tower should be finished this month. The plan is to launch a dozen test flights in 2022.
The launch would place Starship in orbit which would then complete less than one orbit before reentering and splashing down in the Pacific Ocean. Musk said the first launch might not be successful as Starship might not reach orbit but they would "get there next year."
Operations with actual payloads could begin in 2023, if SpaceX is able to recover and reuse Starship during these test flights. The FAA is expected to complete the environmental review by the end of this year.