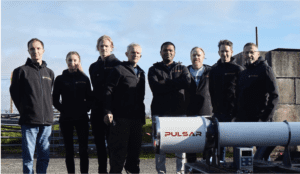 Edinburgh, 30 November 2021. – Pulsar Fusion has demonstrated its new, MACH-7 green hybrid rocket fuelled with N2O and HDPE from recycled plastic in Gstaad, Switzerland.
The engine is capable of launching vehicles to an altitude of several tens of km or powering the upper stage of a rocket into orbit.
Pulsar's non-toxic hybrid rocket engine combusts nitrous oxide (N2O) oxidiser and high-density polyethylene (HDPE) fuel. The two burn together and produce a non-toxic plume, made largely of water vapour. The propellants have an extremely low production energy requirement and have a low carbon footprint. Due to the design, the engines have relatively small failure modes compared to conventional liquid propulsion engines, the company said.
During the test, the engine ran on liquid oxidiser of which quantity along with the engine impulse were increased by a factor of nearly 10. The chamber pressure was also raised from about 500 to over 2000 kPa during the first, then to nearly 5000 kPa during the second test.
The company recently received funding from the UK Government to further develop its HET (Hall Effect Thruster) plasma satellite engines. Pulsar's ultimate goal is to produce a hyper-speed propulsion engine using nuclear fusion. The technology could halve the journey time from Earth to Mars, according to scientists. The first prototype of such an engine is expected in 2025.