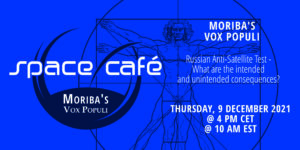 In honour of this sacred experience and all of you who know me and have enrolled in this global vision, I, Moriba Jah have partnered with SpaceWatch.Global to run an exciting Space Café series: Moriba's Vox Populi (Latin for "the people's voice") where I intend to choose topics of relevance to space safety, security, and sustainability and have an hour-long"chill in a lounge chair" type conversation amongst people.
Russian Anti-Satellite Test – What are the intended and unintended consequences?
Will or should there be any repercussions and if so, what are they?
What can be done to deter anyone from doing another ASAT that generates debris as a result?
How do we ensure the protection of the space environment hereon?
Are there any practices and protocols we can agree to implement to mitigate this sort of event from reoccurring?
Does this dissuade potential space investors and actors from participating in space exploration and commerce?
Is this ASAT a clear example of Harmful Interference?
How would the UN convention of liability and damage play out given this ASAT and potential satellite loss or anomalies?
It will be live…that keeps it real. I go unscripted and am not into luring people into traps or anything of the sort. I just want an open, organic, and real dialogue that connects to humanity!
This session will allow for some candid discussion about this, and raise awareness globally about this issue. I'm all about having an inclusive dialogue!
This will be what we will explore together in our next session of Space Café: Moriba's Vox Populi. Please join us for a candid and inclusive conversation.
My guests are:
Moriba's Vox Populi will be a disruptor in the current growing ocean of webcasts, I can promise you that! I'm really excited! After all, I am a SpaceWatcher!
You, the audience, have a role in shaping the conversations we're having, adding to our voices; as such you will have an opportunity to ask questions in our session.
SpaceWatch.Global is a Switzerland-based digital magazine and portal for those interested in space and the far-reaching impact of the space sector.
This Space Café "Moriba's Vox Populi" will be conducted in English on 9 December 2021 at 4 pm CET.
Reserve your place today.