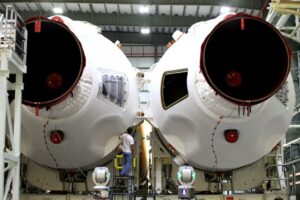 Budapest/ Washington DC, 10 November 2021. – NASA announced that due to the challenges and progress of their lunar exploration plans, the first human landing under Artemis will be delayed by a year.
NASA also announced that the Orion spacecraft development cost now is $9.3 billion from fiscal year 2012 through the first crewed flight test no later than May 2024.
The postponement of the Moon mission is due to first-time development challenges, and an almost seven-month delay because of the HLS lawsuit filed by Blue Origin. Congress not appropriating sufficient funds, the COVID-19 pandemic, and technical feasibility issues are also among suspension factors.
Prior to the surface mission, NASA will launch an unmanned Artemis I and a crewed Artemis II flight tests around the Moon. Artemis II will send astronauts aboard the Orion spacecraft roughly 64,400 km past the Moon, the farthest any human has ever travelled into space. An unmanned lander demonstration mission by SpaceX will also precede the Artemis III crewed lunar landing mission.
The delay will not affect later Artemis mission schedules and lunar surface plans, according to NASA. These future plans include the development of Gateway, a lunar orbiting outpost to aid long-term exploration of the Moon and Mars.