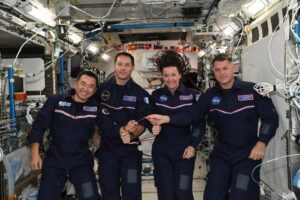 Budapest / Washington / Houston, 10 November 2021. –  NASA's SpaceX Crew-2 astronauts safely splashed down in the Gulf of Mexico on Monday aboard the Crew Dragon Endeavour spacecraft, NASA said. The agency's second long-duration commercial crew mission set the record for the longest spaceflight by a U.S. crewed spacecraft. 
NASA astronauts Shane Kimbrough and Megan McArthur, JAXA astronaut Akihiko Hoshide, and ESA astronaut Thomas Pesquet spent 199 days in orbit and completed 3,194 orbits around Earth. Pesquet is also the first European to fly and return from space on a commercial spacecraft. After their parachute-assisted splashdown and returning to shore, the astronauts flew back to NASA's Johnson Space Center in Houston.
Crew-2 launched on 23rd April on a Falcon 9 rocket and have conducted numerous science, technology and maintenance activities. The astronauts also performed four spacewalks and took hundreds of pictures of Earth as part of the Crew Earth Observation investigation.
The Crew-2 mission was part of NASA's Commercial Crew Program, launching astronauts on American rockets and spacecraft from American soil to the ISS. NASA's next long-duration mission of six months, SpaceX Crew-3, will go ahead tonight. Crew-4 is currently targeted for launch in April 2022.