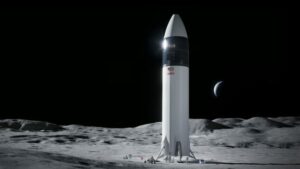 Edinburgh, 5 November 2021. – The U.S. Court of Federal Claims ruled against Blue Origin in their lawsuit against NASA over a US $2.9 billion lunar lander contract awarded to SpaceX, CNBC reports. Federal Judge Richard Hertling gave his ruling after a month's long battle.
NASA awarded SpaceX with the sole contract for the agency's Human Landing System (HLS) program to deliver astronauts to the Moon's surface using their Starship rocket. SpaceX was competing with Blue Origin and Dynetics. NASA was originally planning to award two contracts. However, this was changed into a single contract due to a lower-than-expected Congress allocation for the program. 
Blue Origin protested the decision with the U.S. Government Accountability Office which was denied. The company then filed a lawsuit. A Blue Origin spokesperson told CNBC that the company's lawsuit "highlighted the important safety issues with the HLS procurement process that must still be addressed." Hertling's ruling dismissed Blue Origin's claims. The court's opinion is currently sealed only to be publicly released after 18th November.
Works on the HLS contract were suspended for the duration of the lawsuit but are now scheduled to resume on Monday.
Not the decision we wanted, but we respect the court's judgment, and wish full success for NASA and SpaceX on the contract. pic.twitter.com/BeXc4A8YaW

— Jeff Bezos (@JeffBezos) November 4, 2021