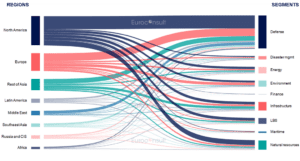 Amsterdam, 11 October 2021. – The market for Earth Observation is to grow steadily to $7.5 billion by 2030, with defense as the most significant driver, Euroconsult says in a new study.
Value-added services represent the largest part and are expected to undergo an accelerated growth driven by constellation supply, topping $5 billion by 2030 with 7% CAGR through the decade, Euroconsult says. "Still fragmented, some emerging but promising applications such as LBS and insurance are expected to lead the growth due to the increasing bigdata and data fusion capabilities."
The commercial market for EO data stood at $1.6 billion in 2020, growing at a 5-year Compound Annual Growth Rate (CAGR) of 5%, Euroconsult says. It is expected to top $2.5 billion by 2030 at 4% CAGR throughout the decade. Defense maintains its place as the most significant market for commercial data, with $1.8 billion in 2020, or around 45% of the total market, the study concludes.
Euroconsult publishes these findings in its Earth Observation: Data & Services Market (EODSM) report for 2021, providing a fresh global assessment of the Earth Observation (EO) satellite-based commercial demand for imagery and value-added services, in 8 regions and across 9 vertical markets.