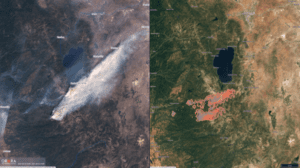 Edinburgh, 11 October 2021. – The Austrian Space Forum awarded the thirteenth Polar Star Award to Thomas Grübler, M.Sc., CEO and co-founder of OroraTech. The company uses satellite imaging for early detection of wildfires. First awarded in 2009, the Award honours personalities who are committed to get people excited about space.
Munich-based OroraTech is a New Space start-up, a spin-off from the MOVE-II CubeSat project at the Technical University of Munich. They currently work with data coming from existing satellites, providing forest fire information up to 20 times a day.
The data presented includes information on the nature of the forest, soil moisture, risk maps as well as weather information. OroraTech has developed a miniaturised thermal imaging camera compatible with CubeSats. This makes it possible to provide real time data for a fraction of the cost, the company says.
The firm's first satellite will launch in January 2022. By 2026, a constellation of 100 satellites will be ready for further analyses. OroraTech is in talks with ESA regarding a project to monitor gas flares in the future as well.