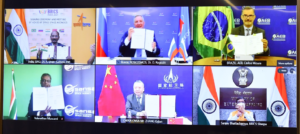 Edinburgh, 20 August 2021. – The leaders of BRICS Space Agencies have signed an agreement to share remote sensing satellite data the Indian Space Research Organisation (ISRO) reports. The heads of space agencies of Brazil, Russia, India, China and South Africa signed the agreement via video meeting.
The agreement enables BRICS space agencies to build a virtual constellation of specified remote sensing satellites, ISRO said. With their respective ground stations receiving data, they will be able to tackle global challenges. Data regarding climate change, environmental protection and major disasters will be among those shared. The project will strengthen the multilateral cooperation among BRICS space agencies.
The constellation consists of existing satellites of the Brazilian Space Agency, Russia's Roscosmos, the Indian Space Research Organisation, China National Space Administration and the South African National Space Agency. These include CBERS-4, jointly developed by Brazil and China, India's Resourcesat-2 and 2A, Russia's Kanopus-V type, and China's Gaofen-6, and Ziyuan III 02.