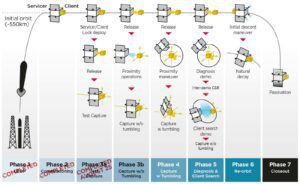 Edinburgh, 27 August 2021. – Astroscale's End-of-Life Services by Astroscale-demonstration (ELSA-d) successfully captured its client spacecraft using its magnetic capture system. This could solve the challenge of capturing and docking during debris removal and on-orbit servicing, Astroscale said.
During the demonstration, ELSA-d was launched while a mechanical locking mechanism held its servicer and client spacecraft together. This mechanism was then unlocked and the magnetic capture system kept hold of the client. The client was then released from the servicer and captured repeatedly to validate the magnetic capture system.
During the demonstration, Astroscale UK's Mission Operations and Ground Segment teams checked and calibrated the rendezvous sensors. They also verified relevant ground system infrastructure and operational procedures. The Mission Control team comprises a collaboration funded by UK Research and Innovation and is based at the National In-Orbit Servicing Control Centre at Satellite Applications Catapult, Harwell, UK.
The engineering and Mission Control teams are currently preparing for the "capture without tumbling" phase. This means the client will be separated to a farther distance, and the capturing and docking method will rely on on-board software and ground processing of telemetry and commands. This stage is planned to be completed in the coming months and will be followed by the "capture with tumbling" phase. The latter will be the first attempt ever to capture a tumbling object in space. The final stage will be "diagnosis and client search" where the servicer will inspect the client, withdraw for a far-range search, then recapture the spacecraft.