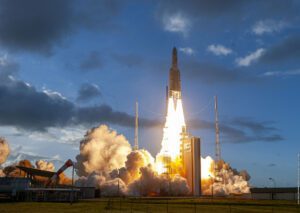 Edinburgh, 2 August 2021. – Eutelsat Quantum was launched on board of an Ariane 5 from French Guiana Space Centre. The launch marks Arianespace's 6th successful mission of the year and Ariane 5´s return to flight after a pause of nearly one year.
The co-passenger on Ariane 5 was Star One D2 from the Brazilian operator Embratel. Both, Eutelsat and Embratel are long-standing customers of Arianespace.
Quantum is the first in a new generation of software-defined satellites. They offer a new flexibility because they can be reprogrammed remotely in terms of beam direction, size, form and power level, responding quasi in real-time to customer and commercial demands.
Quantum was developed by ESA (European Space Agency) in partnership with satellite operator Eutelsat and manufacturer, Airbus Defence and Space.
The UK flagship project has reached geostationary orbit approximately 36 000 km above Earth, where it will remain for 15 years before being put in a graveyard orbit.