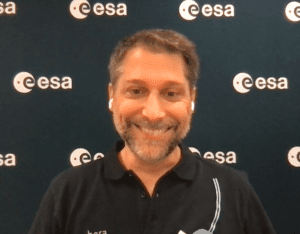 SpaceWatch.Global is pleased to present the 31st episode in our podcast series The Space Cafe Podcast: Ian Carnelli, Preparing for the worst
Episode 031 features a special guest Ian Carnelli.
Next year, a small spacecraft will head for the double asteroid Didymos to slam into it with its brakes off. The name of the mission gives free rein to the imagination: Planetary Defense Mission. It is a joint mission between ESA and NASA, and it wants to test for the first time what has long been a topic in science fiction: can a deadly chunk of rock be deflected from its collision course with the earth or is a second event that took away the dinosaurs only a matter of time? The Planetary Defense Mission will find an answer. Whether it is the one we would like remains to be seen. Mission Director Ian Carnelli paints a fascinating picture of this unique mission.
Click here to learn more about ESA's HERA mission.
The Space Cafe Podcast brings our signature brand of engaging and relevant content from across the global space economy to you via an exciting new format. Together with award-winning Executive Producer, Markus Mooslechner (Terra Mater Factual Studios), our fortnightly podcast features highly interesting guests.
Each episode includes a review of important topics, as well as guest appearances and deep commentary from expert panellists from across the space sector.
Thanks to our global distribution partner, BookWire, the podcast is available on all major podcast platforms.










Tune in here