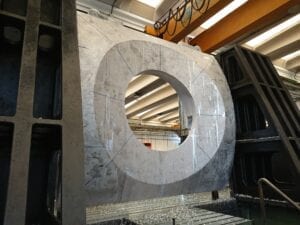 Luxembourg, 16 July 2021. – Thales Alenia Space will build two pressurized modules of the Axiom Space Station, "the world's first commercial space station", the company said.
Thales Alenia Space in Rome and Axiom Space in Houston, Texas, signed a contract for the development of the two elements that are scheduled for launch in 2024 and 2025 respectively, and will be docked to the International Space Station (ISS), Thales said. The value of the contract is € 110 million.
The Axiom Station will serve as hub for research, manufacturing and commerce in Low Earth Orbit (LEO), expanding the usable and habitable volume of the ISS.
When the ISS is decommissioned, the Axiom modules will detach and operate as a free-flying, next-generation commercial space station, a laboratory and residential infrastructure in space, that will be used for microgravity experiments in-space manufacturing, critical exploration life support testing, and hosting both private and professional institutional astronauts, Thales said.
Axiom Space Station will be the cornerstone of a permanent, prosperous human presence and a thriving network of commercial activity in LEO, enabling new advances both on Earth and further out in space. The first two elements to be launched will accommodate up to 4 people each.