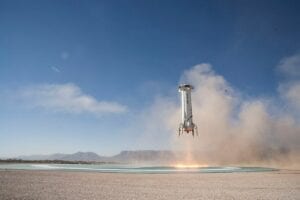 Luxembourg, 16 July 2021. – The Smithsonian will receive a $200 million donation from Jeff Bezos, the museum in Washington, DC, said.
The donation from the Amazon and Blue Origin founder – who will undertake his first flight to space next Tuesday – is the "largest gift to the Smithsonian since the institution's founding gift from James Smithson in 1846", the museum said.
A $70 million portion will support the renovation of the National Air and Space Museum and $130 million will launch a new education center at the museum. This center will be housed in a new facility to be constructed on the east side of the museum's plaza at its flagship location on the National Mall, the Smithsonian said.
In parallel, Bezos' non-profit "Club for the Future" announced a donation of $19 million to 19 space-focused charity organisations, $1 million each.
The club raised $28 million recently with auctioning off a seat on the first crewed flight of Blue Origin's New Shepard vehicle with which Bezos will go to space next week.
The anonymous buyer of that seat stepped back from the launch and left the seat to another bidder, the CEO of Somerset Capital Partners, Joes Daeman, who gave the ticket to his 18 years old son Oliver.