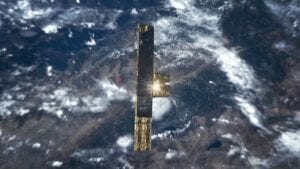 Paris, 7 July 2021. – The satellite radar specialist ICEYE can offer its customers now a coherent daily tracking and monitoring, the company said, providing what it calls the "world's most frequent coherent radar satellite data coverage".
ICEYE announced the achievement of Daily Coherent Ground Track Repeat (GTR) imaging with its radar satellites.
"This new, world-first capability enables detecting everything from large changes, such as monitoring if ships have moved, all the way to such detailed changes on-ground that a person on-site would not be able to recognize," the company headquartered in Finland said.
The data enables performing a coherent change detection every 24 hours, which has use cases in detailed monitoring of patterns of life, site activity, ground subsidence, infrastructure integrity, construction, and more, ICEYE said.
"Coherence is a term given for the exact similarity between two radar satellite images," the company explained. "If a car has driven across a field, stockpiles have been adjusted, or forested areas have been cut down, these are seen as changes in the coherence between the chosen two images taken from different times of that location."
ICEYE launched four more synthetic-aperture radar (SAR) satellites on a rideshare mission with SpaceX last week, bringing the total number of the company's radar satellite missions to 14.
The newly demonstrated capability is expected to be available for a wider customer base in 2022, ICEYE said.