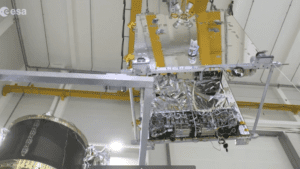 Luxembourg, 14 July 2021. – Double quantum, different quantums: Eutelsat's Quantum, the first in a new generation of software-defined satellites, will be launched on 27 July from Kourou while SES said it pushes a Luxembourgish consortium to develop a super secure quantum key distribution system.
Eutelsat's Quantum will be launched into a geostationary orbit on board an Ariane 5 from Kourou at the end of July, the European Space Agency (ESA) said. The satellite built by Airbus on a platform by Surrey Satellite Technology "offers its users the ability to reconfigure the satellite while in orbit" and thus "a previously unknown degree of flexibility during its 15-year lifetime", ESA said.
ESA invested €80 million in the project ; the total budget was €200 million.
At the same time, SES announced that it leads a consortium to define and develop Europe's quantum communications infrastructure (QCI), "setting the path for next-generation cybersecurity". 
The Luxembourgish QCI consortium (dubbed LuxQCI) includes InCert, itrust consulting, LuxConnect, LuxTrust and the University of Luxembourg (SnT), SES said.
The quantum key distribution (QKD) is an "ultra-secure form of encryption" that uses the principles of quantum mechanics via satellite. It allows to securely distribute confidential data, protecting power grids, government communications and digital transactions, SES said.
"Once operational, LuxQCI will guarantee the security of digital transactions and of confidential information transfer over geographically dispersed areas." "QCI will ultimately evolve into a Quantum Internet, linking quantum processors and sensors and enabling an EU-wide distributed quantum computing and communication capability," SES said.