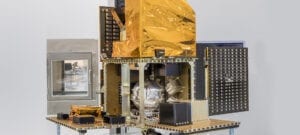 Paris, 8 July 2021. – The European Space Agency (ESA) has mandated the British defense and security group QinetiQ to demonstrate and validate innovative satellite technologies on a spacecraft built on QinetiQ's PROBA platform, the company announced.
Funded by ESA, QinetiQ is to deliver and operate a satellite that will host up to 13 different on-board experiments, the company said.
The new satellite will be built on the latest generation of QinetiQ's PROBA P200 platform, it said. It will be developed and integrated in QinetiQ's dedicated new cleanroom facilities at Kruibeke in Belgium where the company will also install a ground control system and provide continuous management and monitoring, QinetiQ said.
"We're delighted to be working on such an important mission for so many organisations at the cutting edge of space technology," Frank Preud'homme, Business Development Director of QinetiQ's space business, said. "The new satellite funded by the European Union will play a catalytic role in helping to bring exciting and significant new innovations to market and maximising European progress and competitiveness in the burgeoning space sector."