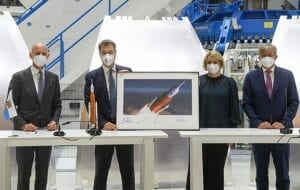 Paris, 8 July 2021. – More Boeing in Bavaria: MT Aerospace partners with Boeing to supply solutions for its commercial, defense and space programs over the next few years, the OHB affiliate said.
Both companies signed a partnership agreement to further diversify and expand MT Aerospace's supplier activities for Boeing and "jointly explore additional collaboration opportunities", the company based in Augsburg, Germany, said.
The collaboration includes the design and manufacturing of parts for Boeing-built commercial satellites, as well as for the Boeing-built core stage of NASA's Space Launch System (SLS), MT Aerospace said.
MT Aerospace has been a qualified supplier and partner to Boeing for NASA's SLS since 2013 and currently produces the dome gore panels for the rocket's cryogenic core stage, the company said.
NASA's SLS is the most powerful rocket ever built, capable of carrying astronauts and cargo to the moon and beyond. Around 3,800 suppliers in all 50 U.S. states and across Europe contribute to the rocket, the Orion spacecraft it will launch, and the Exploration Ground Systems program that is modernizing Kennedy Space Center, MT Aerospace said.
Boeing is responsible for the rocket's cryogenic core stage, in-space upper stage and avionics suite, the company added.