by Blaine Curcio
China and real estate go together like satellites and rockets. As the country's economy has grown by leaps and bounds over the past several decades, so too has its real estate market, as literally hundreds of millions of young Chinese families have bought (or more accurately, 99-year leased) flats in China's booming megacities. For companies in the space industry, one of the clearest ways to increase assets is to get real estate allocated by cities that want to attract space companies. We have seen this occur in places like Huzhou, where launch company Landspace has built a massive rocket factory.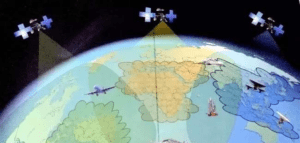 That said, Landspace's Huzhou factory is, as far as this correspondent can tell, somewhat in the middle of nowhere near China's ~50th-largest city (if that). Sometimes, though, you get an example of a space company acquiring some prime land in a prime place, and the numbers at that point can get pretty silly.
Case in point: APT Mobile Satcom. A short background on the company—APT Mobile Satcom was founded in Shenzhen in 2016, as a sort of JV between APT Satellite (HK), CTTIC (China's mobility satcom service provider), and the local Shenzhen Government, among a few other shareholders. The company originally planned a global constellation of 4x HTS satellites to serve mobility markets, with their ambitious plans shown in a sort of coverage map above.
To now, APT Mobile Satcom has launched 1x satellite, Apstar-6D, which has seen some success in leases from mobility clients such as Panasonic and Gogo. That being said, APT Mobile Satcom remains, almost by definition, a small regional operator. The company has 1 satellite, their total satcom leasing revenues for 2020 likely did not exceed a few tens of millions of USD. Moving forward, it is not clear when, if ever, they will launch their other satellites, particularly given uncertainty around LEO constellations and the impact of Covid-19 on mobility markets.
Which brings us to the company's real estate play. APT Mobile Satcom recently announced the topping out of the APSATCOM Tower in Shenzhen's Bao'an District, very near (or possibly within) the Qianhai Free Trade Zone. The tower and land have an interesting history. Around 6 months after the company's establishment, APT Mobile Satcom bought a plot of land in Bao'an for ¥1.153B, or around US$180M.
Now, around 4 years later, the company has announced the topping out of its tower. The 230-meter tall beast contains a built area of 107,000 sq. meters, and 4 vertical gardens dispersed at around 20-storey intervals. But that's not all. As noted, APT Mobile Satcom has the good fortune of having a tower located in one of the premier districts of one of the wealthiest cities in one of the world's bubbliest real estate markets. What does that mean for APT Mobile Satcom? That they're sitting on a billion dollars of real estate. Yes, one billion dollars.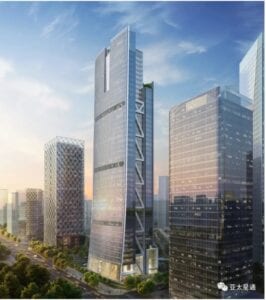 While it's always a tricky exercise to value Chinese commercial real estate given that it generally is not sold (rather, rented) we can get some idea from the apartments nearby the APT Mobile Satcom Tower. And they are bloody expensive, with real estate in this part of Bao'an fetching around ¥70,000-80,000 per square meter, or around US$11,000-$12,500. Multiplied across 107,000 square meters, we get US$1.17B at the low end, and US$1.33B at the high end. Again, these numbers may not represent the real value of the tower, as one would need to find a buyer willing to pay more than one billion dollars, but this is the market rate for real estate in the area. And again, this >$1B figure starts to look head-scratching in the context of a company with revenues of tens of millions of USD.
In the end, APT Mobile Satcom's real estate venture should serve as a lesson for anyone looking at the Chinese space sector: companies may say that their core business is operating satellites, or building rockets, or manufacturing terminals. But ultimately, if they're in a major city, and if they have the city government as a shareholder, it's entirely possible that their main business ends up being real estate. And, think it's just a one-off with APT Mobile Satcom? Think again: China's main satellite operator, China Satcom, is in the same boat, except in Beijing. They even used to rent office space to ByteDance, one of China's premier tech companies.
This article is an expanded version of one of the articles in our recent Dongfang Hour Weekly Newsletter, which offers coverage of weekly updates in the Chinese space sector.
Blaine Curcio has spent the past 10 years at the intersection of China and the space sector. Blaine has spent most of the past decade in China, including Hong Kong, Shenzhen, and Beijing, working as a consultant and analyst covering the space/satcom sector for companies including Euroconsult and Orbital Gateway Consulting. When not talking about China space, Blaine can be found reading about economics/finance, exploring cities, and taking photos.