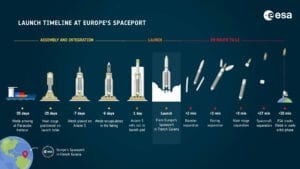 Paris, 2 June 2021. – The giant James Webb Space Telescope is on Arianespace's launch manifest for the fourth quarter of this year, officials from the European launcher and the U.S. space agency said.
The telescope could be shipped from the U.S. to French Guiana late August, Thomas Zurbuchen, NASA's science mission director, said at a virtual press briefing and mission update.
The European Space Agency (ESA) calculates that the assembly and integration of the giant telescope in the Ariane 5 launcher would need 55 days.
The official launch date of the telescope is the 31 October.
Arianespace is planning two Ariane 5 launches before that, with the first one scheduled for mid-July.
The James Webb Space Telescope is the largest, most powerful telescope ever launched into space. It will take several months after its launch to travel to its destination around the second Lagrange point, 1.5 million kilometers from Earth.
ESA's and NASA's Hubble telescope is 'only' 570 kilometers away from Earth.