by Luisa Low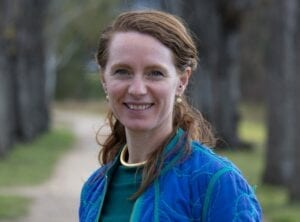 Is space the final frontier for diversity and equality?
During this week's SpaceCafé, SpaceWatch.Global publisher Torsten Kriening spoke with Dr Cassandra Steer, a space law researcher from the Australian National University's Institute of Space and College of Law. With an international (and intergalactic) academic career spanning two decades, Dr Steer specialises in space law, space security and international law, having received her PhD from the University of Amsterdam. She has more than a decade of international experience teaching at universities in Australia, Europe, North America and South America, and has held notable research positions, including studying as a Fulbright Scholar at Cornell Law School and as a Wainwright Junior Fellow at McGill.
As former Acting Executive Director at the University of Pennsylvania's Center for Ethics and Rule of Law, she designed and delivered a conference which examined the weaponisation of outer space, and the legal and ethical boundaries that pertain to the militarisation of space. Just as passionate and knowledgeable about diversity and equality as she is about international and space law, Dr Steer was the Executive Director of Women in International Security Canada, where she worked with government, civil society and academia to support and promote women's careers in peace and security.
This week, she and Torsten discuss diversity and equality in the space sector, and what must be done so that people of all backgrounds and genders can experience true equality in this supercharged industry.
Has space ever been the province of womankind?
Growing up in East Berlin in the 1970s, Torsten Kriening's experience was that women and men worked equally. During the German reunification, he saw that the primary role of women on the "other side" was to raise families and look after the home – much less to become astronauts and space policymakers.
Several years earlier, in 1967, the Outer Space Treaty was signed and put into effect. It stated that space shall be the province of mankind, explicitly excluding women in language and from the negotiating table. Fast forward to 2021 and people of all backgrounds and genders work in roles that were once available only to men. However, Dr Steer says they are still the minority in the space sector, which she believes is still the province of the most privileged – not the whole – of humankind.
"Space is not the province of all mankind in the sense that space is not accessible for all countries, or all nationalities or all cultures. It says that every country has a right of access to space and free use space, and that all nations shall benefit from activities in outer space. And that's just not the case."

"Space has always been the province of a very small elite group of nations: the most wealthy; the most technologically advanced; and they're also the nations that have benefited most from space activities."

"You know, we know we have women astronauts, we have women space aerospace engineers, we have women working for various space agencies, we have women who are working in Policymaking, you know, across the board. But the fact of the matter is, they're still in an absolute minority."
Broader diversity equals better design
According to Dr Steer, broadening diversity within the sector wouldn't just increase projects' success, but it would help avoid the seemingly obvious – and embarrassing – pitfalls that have resulted when projects have lacked diversity. One example is when NASA did not have enough space suits of the right size for its first planned all-women spacewalk. Another is when engineers planned to equip astronaut Sally Ride with 100 tampons for a one-week space launch.
"Clearly, there were not enough women in this team, to even say 'by the way, that's not normal'".
Dr Steer also believes there has not been sufficient research on reproductive health and space – something which she believes should be prioritised by long term human habitation programs.
"How on earth are we going to have long term human habitation if we can't reproduce?"

"Women's bodies, in fact, should be the main organising principle if we're thinking about long term human habitation – and the male body might perhaps be the exception."
What's in a name? Shall space be the province of all humankind?
While Dr Steer does not propose rewriting the Outer Space Treaty, she believes language has an important role to play in achieving diversity and equality in the sector. Language and law are intertwined – and the use of language has underscored women's role in society throughout history. Now, the pressure is on to "unman" space law and the space sector by changing the lingo and jargon used across the industry.
"My good friend, [space archaeologist] Alice Gorman once wrote that women have to think themselves into that language. The argument goes that of course mankind means humankind. And of course when we say manned, we mean piloted or crew, but actually, we didn't [mean it] in the past and we don't really now."

"NASA has a policy around this, but then you see manned and unmanned slip back in, and that matters. Because if a girl is looking at possible career paths for herself and doesn't see herself in that language, it's an automatic block. Language matters because we construct our reality with it. We've always constructed our reality with it."
To listen to Dr Cassandra Steer's insights into diversity in space, you can watch the full program here 
Space Cafe is broadcast live each Tuesday at 4 pm CEST. To subscribe and get the latest on the space industry from world-leading experts visit – click here.
Luisa Low is a freelance journalist and media adviser from Sydney, Australia. She currently manages Media and Public Relations for the University of Sydney's Faculty of Engineering.