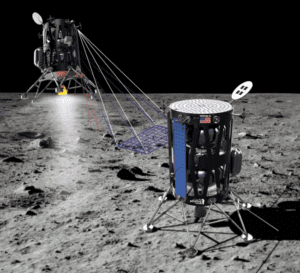 Paris, 30 June 2021. – The Goonhilly Earth Station in the UK will support the Moon missions of Intuitive Machines, the station and the U.S. startup announced.
Intuitive Machines (IM) has entered a long-term agreement with Goonhilly Earth Station Ltd to support every stage of IM's missions to the Moon, from launch and early operations, through transit, and including lunar operations, Goonhilly and IM said.
IM will use Goonhilly's services for its 2022 IM-1 mission, and future missions.
Goonhilly will be providing access to their newly upgraded deep space antenna GHY-6 to facilitate communications between the Intuitive Machines lunar mission and the ground.
GHY-6 is a former satellite communications antenna that has been given a new life supporting deep space missions for ESA, NASA, and commercial endeavors, serving as the world's first private deep space communications asset.