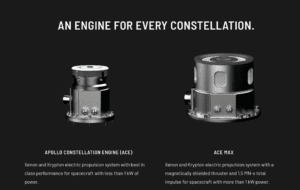 Paris, 8 June 2021. – The launch company Astra wants to acquire Apollo Fusion for up to $145 million, the company said.
Apollo Fusion manufactures electric propulsion engines.
The acquisition allows Astra to provide launch and space services beyond low Earth orbit (LEO), to medium Earth orbit, geosynchronous, and lunar orbits, Astra said.
Astra is acquiring Apollo Fusion for a purchase price of $50 million, the company said: $30 million in stock and $20 million in cash, plus potential for earn-outs like employee incentives and revenue milestone rewards of up to $95 million.
The acquisition brings a team with experience from companies such as Google, Tesla, and SpaceX, with individuals who have developed, designed and manufactured hardware flying on over 2,000 satellites in orbit today, Astra said.
The transaction will close after Astra's Nasdaq listing through its business combination with the special vehicle Holicity which was announced earlier this.
Apollo's founder and CEO Mike Cassidy was previously a Vice President at Google where he led Project Loon, a high-altitude telecommunications system that Google shelved in January.