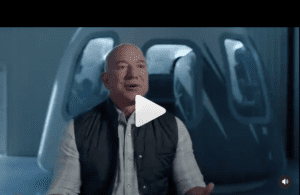 Paris, 8 June 2021. – A space adventure for the Bezos brothers: Jeff Bezos, founder of Amazon and owner of Blue Origin, wants to fly on New Shepard's maiden crewed flight scheduled for 20 July, Bezos said.
He invited his brother Mark to join.
The first crewed New Shepard suborbital flight is planned to blast off from Blue Origin's test and launch site in Texas.
"I want to go on this flight because it's a thing I wanted to do all my life. It's an adventure. It's a big deal for me," Bezos said in an Instagram post.
"Ever since I was five years old, I've dreamed of traveling to space," Bezos said. "On July 20th, I will take that journey with my brother. The greatest adventure, with my best friend."