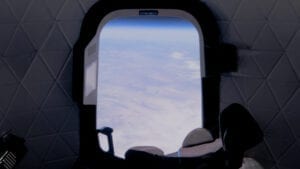 Paris, 6 May 2021. – Have a seat: Jeff Bezos' Blue Origin offers one seat in the New Shepard maiden flight which is planned for the 20 July, the company said.
"On July 20th, New Shepard will fly its first astronaut crew to space. We are offering one seat on this first flight to the winning bidder of Blue Origin's online auction," Blue Origin said.
The auction takes place in three phases, through May and June. Bids can be placed on the company's website, www.blueorigin.com.
The winning bid amount will be donated to Blue Origin's Club for the Future, a foundation to inspire future generations to pursue careers in STEM and help invent the future of life in space, the company said.
The name New Shepard refers to Alan Shepard, the first American to fly to space 60 years ago.
Blue Origin plans to offer trips beyond the Kármán Line in its New Shepard spacecraft; the pricing of a seat or ticket is still unknown.
"This seat will change how you see the world", Blue Origin said.