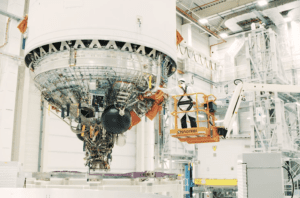 Paris, 12 May 2021. – One step closer to launch: the central power unit of Ariane 6's upper stage passed its final exams and will soon be used in the first hot-fire tests, ArianeGroup said.
The propulsion system's Auxiliary Power Unit (APU) completed its final qualification tests at its site in Vernon, France, and will soon be used in the hot-fire tests that will take place at the German Aerospace Center (DLR) in Lampoldshausen, Germany, ArianeGroup said.
The company co-owned by Airbus and Safran is the lead contractor for Europe's Ariane 5 and Ariane 6 launchers, responsible for design and the entire production process, including marketing by its Arianespace subsidiary.
The main role of the APU is to pressurize Ariane 6's tanks, prepare the rocket's Vinci engine for its in-flight reignitions and provide additional thrust in space, if needed, ArianeGroup said.
ArianeGroup also highlights the power unit's ability to de-orbit the stage at the end of a mission in accordance with European space law by powering it towards Earth, so that it burns up when it enters the atmosphere, and thus helps reduce the space debris left behind.
The fairing of Ariane 6 arrived at Europe's spaceport in French Guiana, the European Space Agency (ESA) said end of last week.