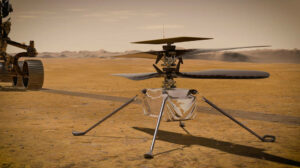 Paris, 12 April 2021. – Not yet: NASA rescheduled Mars helicopter Ingenuity's maiden flight to "no earlier than April 14", the agency said.
Based on data from the Ingenuity Mars helicopter that arrived Friday from a high-speed spin test of the rotors, NASA has chosen to reschedule the Ingenuity Mars Helicopter's first experimental flight, NASA said.
"The helicopter is safe and healthy and communicated its full telemetry set to Earth", NASA said.
"The helicopter team is reviewing telemetry to diagnose and understand the issue. Following that, they will reschedule the full-speed test."
Ingenuity was carried to the Red Planet with NASA's spectacular Perseverance rover mission. Its experimental flight would be the first time that humankind is flying over another planet to observe and explore it.